---
Great for showing why the same face of the Moon is always pointed towards Earth. Has a precariously-perched giant astronaut to help with the idea.
---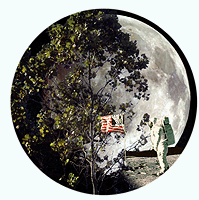 Find out what happened to seeds that were brought to the Moon and back by astronauts in 1976, then planted around the U.S. There is even one in Monterey!
---
An elegantly simple interactive that lets you move the Moon around Earth, and see what the Moon actually looks like from Earth in that position.
---
The psychotic singing Spongmonkeys tell you why. Expect something...well...different when you click here. You've been warned.






---